Accused shooter claims he thought gun was air pistol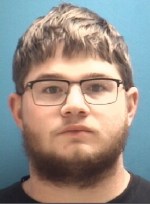 A teen accused of shooting and killing another Hope teenager told authorities that he thought the weapon was an air pistol when he pulled the trigger.
That's according to court documents filed against 18-year-old Joseph T. Kidwell of Fowler is facing a felony charge of reckless homicide in the death of 18-year-old Jesse W. Bragg of Hope.
In a probable cause affidavit filed Thursday with the court, Bartholomew County Detective Terrance Holderness outlined the reasons for Kidwell's arrest. He said that at about 9:52 p.m. Saturday, there was a 911 call saying that someone had been shot at a home on Elm Street.  Witnesses were still performing life-saving measures when Hope police arrived on the scene minutes later.
They found that Bragg had been shot once in the center of his chest, with the bullet exiting through his left shoulder area. The two Hope police officers continued performing life-saving measures on Bragg until medics arrived and he was declared dead.
According to the court documents, Kidwell was arrested and interviewed by detectives at the Bartholomew County Sheriff's Department, where he said he had fired one  shot at Bragg, thinking that it was not a real firearm, but an air pistol.
Witnesses told deputies that Kidwell grabbed the pistol, racked the slide and pointed it at Bragg, who was seated on a couch across from Kidwell, before pulling the trigger. A .40 caliber handgun was found at the scene and a .40 caliber projectile and spent casing were also found and seized by authorities.
Police also found alcoholic beverages and a green leafy substance that smelled of marijuana at the home. A second pistol was recovered from the scene, along with an air pistol.