Missing Cadillac leads to woman's arrest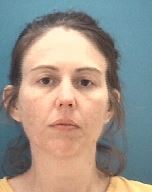 A Columbus man had his Cadillac stolen after offering to give a woman a ride Tuesday afternoon.
Columbus police are reporting that they were called to the 1200 block of Washington Street at about 4:25 Tuesday about the stolen vehicle. The victim said he noticed a distraught woman at a gas station and he offered to give her a ride. But when he left her inside his vehicle, so he could go inside a store to make a purchase, the woman and his vehicle disappeared.
Police soon found the stolen Cadillac and tried to pull it over but the driver refused to stop. Police finally stopped the vehicle in the 1900 block of Union Street and the only occupant, 35-year-old Whitney D. Mitchell of Columbus, was taken into custody.
She is being accused of theft of a motor vehicle and resisting law enforcement.