Seymour man accused of sex with teen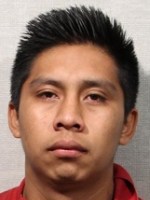 A Seymour resident has been arrested, accused of having sexual relations with a teenager.
According to Seymour Police Department reports, investigators were told back in February that a man started having sex with a 14-year-old girl last summer, when he was 20. Police began looking for the suspect without success, but a tip last week led them to interview 21-year-old Juan Pascal-Gaspar.
Police say that during a interview on Monday Pascal-Gaspar admitted to having sex with the minor on at least two occasions. He was arrested on two counts of sexual misconduct with a minor.