Sheriff's department continues 4-year search for missing man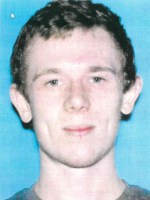 The Bartholomew County Sheriff's Department is looking for any information that could help solve a more than four-year old missing persons case.
According to the sheriff's department, Joseph "Joey" William Ross was last seen on May 13th of 2018 at about 7 p.m. in the evening, walking down the driveway from his Amberley Addition home carrying a shotgun. He was reportedly suicidal and there were reports of gunshots that night. But searches found no sign of Ross, nor of the shotgun or shell casings.
Ross was last seen wearing a green O-Reilly's store shirt with blue jeans. Authorities say he reportedly had no phone or money with him. He was 25 when he disappeared.
Bartholomew County Sheriff Matt Myers says that one of his biggest regrets as he wraps up his final term in office is not locating Ross.
Investigators believe someone knows what happened to Ross. If you have any information you are urged to contact the sheriff's department. The sheriff says a simple phone call can end the family's suffering.
If you have any information you can call the sheriff's department tip line at 812-379-1712 or call Detective Terrance Holderness at 812-565-5927. Tips can be left anonymously.