Three Thanksgiving shooting incidents lead to one death, SWAT standoff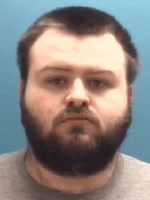 Authorities say there were three separate shooting incidents in Bartholomew County on Thanksgiving Day including an Edinburgh incident where a male was killed and a suspect is being accused of murder.
According to reports from the Bartholomew County Sheriff's Department, deputies were called to the 15000 block of North Bluff Road near Edinburgh at about 6:13 p.m. Thursday evening and found a male suffering from a gunshot wound to the abdomen. German Township firefighters and Columbus Regional Health medics provided medical aid, but the victim was pronounced dead at the hospital.
20-year-old Damion Bryant of Edinburgh was identified as a suspect and after being interviewed by detectives, was arrested on a preliminary charge of murder.
Sheriff's department spokesman Dane Duke said the investigation is ongoing and no further information is available.
Columbus police were called to the 6500 block of West State Road 46 at about 7:15 p.m. Thursday evening after a report of shots being fired. According to police reports, 74-year-old Jerry L. Lucas of Columbus fired a gun at a neighbor. The victim is believed to have been hit by shrapnel but was not seriously hurt.
Lucas then barricaded himself inside his home and refused to leave. The Columbus and Bartholomew County SWAT team was called to the scene along with crisis negotiators. Lucas was finally taken into custody at about 10:50 p.m.
He is facing a preliminary charge of criminal recklessness with a deadly weapon.
Columbus police are also investigating a road-rage related shooting incident on Indianapolis Road earlier in the day.
According to report, a driver was involved in a side-swiping incident with another vehicle at about 4:40 p.m. Thursday near Brian Drive , but when he pulled over to check for damages, the driver of the other vehicle opened fire, hitting the victim's vehicle several times and grazing the victim with a shot. The victim was not seriously injured.
Police say that the shooter is a black man, 20 to 25 years old with shoulder length dreadlocks. He was driving a newer SUV, possibly a red GMC Terrain.
If you have any information, you can call the Columbus Police Department at 812-376-2600. Tips and information can be submitted anonymously.