Woman arrested on drunk driving charges after two crashes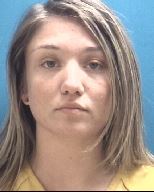 A Columbus woman is being accused of driving drunk and getting into two accidents, all with a small child in the vehicle.
Columbus police report that they were called to the 1000 block of Fifth Street shortly before 5 p.m. Tuesday afternoon where a vehicle had struck a building and flag pole. Police noticed that the car also had front-end damage and witnesses said that the driver, 22-year-old Rebekah A. McCoy, appeared intoxicated. Officers say that McCoy had a small child in the back of the vehicle.
During the investigation, police discovered that McCoy had been involved in a previous crash, where the driver left the scene.
After field sobriety tests, McCoy was taken to Columbus Regional Hospital to have her blood drawn. She was then arrested on preliminary charges of operating a vehicle intoxicated with a minor in the vehicle, neglect of a dependent and two counts of leaving the scene of a property damage crash.
The child was released to a family member.