Butlerville man accused of dealing methamphetamine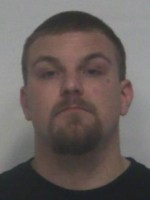 A Butlerville man is facing drug dealing charges after a traffic stop in Jennings County over the weekend.
According to reports from the sheriff's department, a deputy stopped a vehicle at about 3:13 a.m. Sunday morning after seeing the driver make several traffic violations. Suspicious of illegal activity, a North Vernon police dog and handler were called to the scene and the dog, Zobi, alerted to the smell of drugs in the vehicle.
A search revealed 8.5 grams of Methamphetamine, 2 grams of Heroin, and other items associated with drug distribution. The driver, 26-year-old John Meisberger II, was arrested on preliminary charges of Dealing Methamphetamine, Possession of Methamphetamine between 5 & 10 Grams, Possession of Narcotic Drug and Possession of Marijuana.