Chicago women arrested on drug charges on Interstate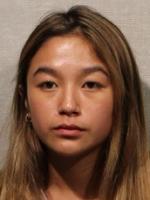 Two Chicago women are facing drug charges after a traffic stop on Interstate 65 near Seymour.
According to the Seymour Police Department, officers stopped a southbound vehicle on the interstate for a traffic violation on Tuesday. Officers noticed the smell of marijuana in the vehicle and a police dog alerted to the smell of drugs inside. During a search, officers discovered psychedelic mushrooms, marijuana and drug paraphernalia.
The driver, 21-year-old Margaret Tran was arrested on preliminary charges for possessing marijuana and drug paraphernalia. A passenger, 22-year-old Amy Vo is being accused of possession of a schedule 1 controlled substance.