Edinburgh man facing drug charges after warrant arrest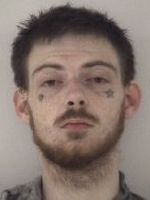 An Edinburgh man is facing drug charges after he was arrested leaving a gas station early Friday morning.
According to Columbus police, officers noticed 23-year-old Coy A. Miller leaving a gas station in the 3300 block of West Jonathan Moore Pike at shortly after midnight. They recognized he was wanted on an outstanding Bartholomew County warrant and stopped him outside the gas station.
A search revealed fentanyl in his pants pocket.
He was arrested on a preliminary charge of possession of a narcotic as well as the outstanding warrant.
Photo: Evidence photo courtesy of Columbus Police Department.