Jennings conservation officer chosen for regional award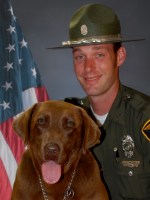 A Jennings County conservation officer has been chosen as the officer of the year for DNR District 9.
The agency announced today that Zach Walker had been selected for the honor for the district which covers Jennings, Decatur, Dearborn, Fayette, Franklin, Jefferson, Ohio, Ripley, Rush, Switzerland, and Union counties.
Walker has been a conservation officer since 2009, previously serving in Henry County.
Walker serves as a K-9 handler, field training officer, airboat operator, background and boat accident investigator, breath test operator, and member of the cave rescue team in addition to being a regular conservation officer.
The district award puts Walker in the running for the Pitzer Award. The award is presented annually to the top overall conservation officer in the state, selected from all 10 districts.
The Pitzer Award is named after Conservation Officer James D. Pitzer, who was fatally shot while investigating illegal hunting activity in 1961, in Jay County.