New legislator's first bill signed into law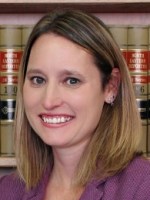 A bill from Bartholomew County's newest legislator has been signed into law
State Rep. Jennifer Meltzer, a Shelbyville Republican, created legislation to begin screening for an animal tranquilizer in overdose deaths. Meltzer said xylazine, also known as the street drug "tranq," is used as a veterinary sedative for livestock. But it has also been linked to a growing number of overdose deaths.
According to the National Institute on Drug Abuse, xylazine is a central nervous system depressant that can cause drowsiness and amnesia, and slow breathing, heart rate and blood pressure to dangerously low levels. Meltzer says the substance is being mixed with drugs like fentanyl and other opiates. But xylazine is not an opioid, so lifesaving medications such as Narcan are less effective.
Under her legislation, signed last week by Gov. Eric Holcomb, coroners will test for any trace of xylazine in drug overdose deaths. She said this extra step would provide the state with data that could be used to form an action plan.
This is Meltzer's first bill. The freshman legislator's district includes northeastern Bartholomew County.
Indiana Statehouse photo courtesy of iga.in.gov