North Vernon biker gang leader sentenced to 120 years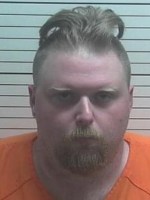 A North Vernon motorcycle gang member has been sentenced to 120 years in prison.
According to the Jefferson County prosecutor's office, Michael J. "Billy Goat" Karnuth was sentenced this week by Jefferson Circuit Court Judge D.J. Mote.
Karnuth was found guilty last month of murder, attempted burglary committed while armed with a deadly weapon, attempted robbery committed while armed with a deadly weapon and obstruction of justice. Karnuth was also found to have been a member of a criminal organization and that he committed the crimes to further the interests of the organization.
Prosecutor David Sutter says Karnuth was sentenced to 60 years on the murder charge and an additional 60 years on the criminal gang enhancement.
Members of the Pagans and Warlock motorcycle gangs confronted a man they believed had been wearing tattoos, colors and patches of a motorcycle gang, despite not being a member in June of 2021. Gunfire broke out and Pagans gang member 35-year-old Dustin B. Lindner of Georgetown, Kentucky was killed.
Karnuth was president of the Heavy Hitters chapter of the Warlocks motorcycle club.