Student research project to be previewed Thursday at IUPUC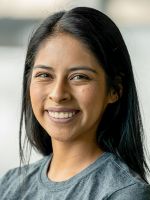 The community will be able to get an early look at a project through IUPUC's Office of Student Research this week.
Yamileth Martinez will be displaying her project, "In the Shadows: Immigrant Stories", which features the stories of six anonymous undocumented immigrants through their art and stories as well as Martinez's own story.
Martinez is a senior in the IUPUC School of Education. Through her project, she hopes to better understand how discrimination against national origin, language, and citizenship status are perpetuated through immigration policies.
She said the undocumented immigrants come here to live their dreams, but many live, drive and work in fear.
The project will also include a survey, to measure the attitudes of participants. There will also be display of the artwork of Alejandra "El Rallonadero" Carrilo and food from Morales Antojitos.
"In the Shadows" is one of 13 projects that will be presented next month as part of IUPUC's annual Office of Student Research Exhibition.
Thursday's presentation will be from 4:30 to 6:30 p.m., Thursday at the Landing in the Columbus Learning Center on Central Avenue.