Two arrested after shots fired in downtown Seymour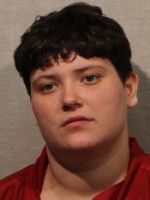 Seymour police have made two arrests after shots were fired Monday night in what investigators believe was a dispute over a video game system.
According to the police department, shortly after 8 p.m. Monday night officers were called to the alley between the 700 block of South Pine and South Poplar streets on reports of shots being fired from a vehicle. Witnesses described the vehicle as a white passenger car and the driver as a white woman with blond hair. There were several passengers in the vehicle also. The vehicle left the area heading westbound on Jackson Street.
No injures or damage was reported, but police did collect fired shell casings at the scene.
After receiving a tip, police located a suspect during a traffic stop and took that person into custody. A second suspect was found at a home in Columbus. After serving a search warrant, police recovered a 9mm handgun.
20-year-old Billy J. Gorbett of Brownstown and 18-year-old Jodie L. Gorbett of Columbus were arrested on preliminary charges of intimidation and criminal recklessness with a weapon.
Columbus Police Department assisted in the investigation.