Wanted man arrested after running from Columbus police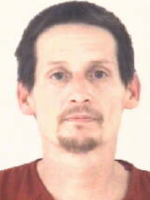 A wanted Columbus man was arrested over the weekend after trying to run from police.
According to the Columbus Police Department, the Bartholomew County Joint Narcotics Enforcement Team and Columbus intelligence led policing unit have been investigating 45-year-old Todd Bergeron of Columbus for about a year and a half. Last week, police noticed Bergeron make several traffic violations while riding a bike in the 1400 block of Lafayette Avenue. Police attempted to stop him but he fled from officers and eventually got away. But he also discarded a a backpack containing fentanyl, drug paraphernalia and his ID card.
A warrant was issued for his arrest and police found him in the 3100 block of North National Road at about 12:40 a.m. Saturday morning. After he ran, he was caught in the 2700 block of Central Avenue. Police say that he was carrying fentanyl, methamphetamine and prescription pills.
He was arrested on new charges of resisting law enforcement, possession of a narcotic drug and possession of methamphetamine, as well as the warrant for resisting law enforcement, and for possessing the drugs found in the discarded backpack.