Arrest made in local business thefts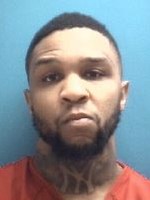 Columbus police say an investigation has led to the arrest of a man believed to have stolen cash registers, money and lottery tickets from several businesses.
According to reports from Columbus Police Department, officers began investigating a burglary in the 1700 block of State Street on Thursday after a rock was thrown through a glass door and a cash register taken. After watching video of the incident, police identified 27-year-old Jeron McDonald of a Columbus as a suspect.
A police dog followed the suspect's trail and the cash register was recovered in an alley near an apartment building on South Cherry Street where the tracks ended. Police blocked off the area and found and arrested McDonald. A search of his apartment uncovered a large amount of cash as well as lottery tickets stolen in an earlier burglary.
McDonald was arrested on preliminary charges of burglary, possession of stolen property, and criminal mischief. Police say additional charges are possible and the investigation is ongoing.