Arts Council chooses Hawkins to head arts group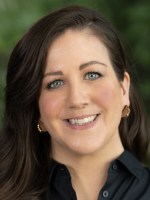 The Columbus Area Arts Council is promoting its interim director, Brooke Hawkins, to the role permanently.
The arts organization made the announcement yesterday that Hawkins would be taking over as permanent executive director —  the role she has been filling since last May after the departure of the previous director, Kathryn Armstrong.
Hawkins has been the organization's brand manager and graphic designer for five years, including overseeing its rebranding in 2017. Hawkins has also twice served as co-chair of Uncommon Cause, the non-profit's largest annual fundraiser.
Arts Council Board President Mike Elwood said Hawkins "has led the organization with focus and a collaborative spirit." and "She is deeply committed to the arts and culture in this community."
The Arts Council is responsible for popular arts-related events in the community including First Fridays for Families and events held in the 6th Street Arts Alley.