Arts Council head stepping down for Michigan position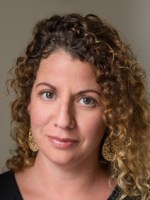 The Columbus Area Arts Council is announcing that its executive director, Kathryn Armstrong, will be stepping down after six years with the organization.
Armstrong has accepted a role as director of development with the Ox-Bow School of Art & Artists' Residency in Michigan. Armstrong said the move will put her closer to family and allow her to restart her own personal creative practice.
Armstrong joined the Columbus group in 2016 after leaving a faculty instructor position at the Herron School of Art and Design. Erin Hawkins, director of marketing for the Columbus Area Visitors Center, said that Armstrong's legacy is moving the arts group away from entertainment-style events and toward more arts-related programming.
Arts Council Board President Mike Elwood said Armstrong helped restore the financial health and well-being of the Arts Council to its strongest position in the history of the organization.
Armstrong has served on several boards and committees in the area including the  Columbus Area Visitors Center advisory committee, the Mayor's Public Arts Committee,  Columbus Arts & Entertainment District guiding team, Heritage Fund community outreach impact committee, as an adult mentor at Turning Point's Dance Marathon, an advisory board member of Historic New Harmony and a member of the Brown County Art Guild board.
Armstrong's resignation will be effective May 27th.