Bartholomew police dog aids in arrest of wanted man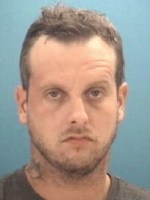 A wanted man was arrested by Bartholomew County deputies serving a warrant late Thursday night but only after authorities threatened to use a police dog to make the arrest.
According to the Bartholomew County Sheriff's Department, deputies went to the Elkland Hills Trailer Park at about 11:12 p.m. Thursday night to serve an arrest warrant on 31-year-old Daniel Michael of Columbus, who was believed to be in a trailer there. Michael is wanted on warrants for dealing in, manufacturing and possessing methamphetamine. The sheriff's department says he is on the local most wanted list and eluded arrest last week.
Michael refused to surrender and leave the home, and deputies sent in department police dog Frizko and his handler Deputy Dylan Prather. When told that the dog would be used to make the arrest, Michael decided to surrender, deputies say.
Sheriff Chris Lane said that "Frizko's presence alone appears to have motivated the individual to surrender peacefully which prevented possible injury to himself and my deputies."