Fleeing driver crashes into Columbus neighborhood pond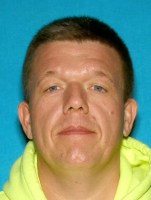 A suspect's vehicle had to be recovered from a Sandy Hook neighborhood retention pond following a police chase Friday afternoon.
According to the Bartholomew County Sheriff's Department, a deputy stopped a vehicle near State Road 46 and East State Street at about 3:15 p.m. Friday afternoon, suspecting that the driver was 48-year-old Benjamin Munn of Flat Rock. Munn was wanted on an outstanding Shelby County warrant for failing to appear in court on a charge of possessing a firearm by a serious violent felon.
Deputies say that Munn sped away from the scene when he was ordered to get out of the vehicle. After a chase, the left the road near Taylor Road and Waycross Drive, went down an embankment and into a pond in the Sandy Hook neighborhood.
After coming ashore, Munn was first taken to Columbus Regional Hospital to be checked out then arrested on new charges including Resisting Law Enforcement, Criminal Mischief and r Reckless Driving as well as the outstanding Shelby County warrant.
The Bartholomew County Water Rescue Dive Team as well as Indiana conservation officers were called to the scene to recover the vehicle from the pond.