Columbus firefighter suspended after DUI crash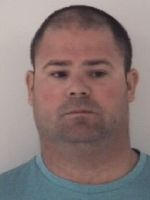 A Columbus firefighter is suspended after a crash last week led to accusations of drunk driving, and leaving the scene of an accident with injuries.
According to the Columbus Fire department, 35-year-old firefighter Nicholas T. Tuttle has been placed on administrative leave while a March 15th incident is being reviewed by the Fire Department Administration. Recommendations from that review will be forwarded to the Columbus Board of Public Works and Safety for possible disciplinary action.
Tuttle was not on duty at the time of the crash and was not operating a fire department vehicle.
According to the Bartholomew County Sheriff's Department, deputies were called to the scene of a hit-and-run accident involving a bicyclist at about 2:48 p.m. the afternoon of March 15th. The victim was lying next to the road and suffering from possible internal injuries. He said he was travelling north on County Road 1150E near East County Road 500N when he was struck by a pickup truck. The truck then left the scene headed west.
The victim was taken to Columbus Regional Hospital for treatment.
About an hour later, a deputy found Tuttle's vehicle, which matched the suspect's description, near State Street and McKinley Avenue. It was missing its passenger side mirror as well and showed black scuff marks on the fender. Deputies pulled Tuttle over and he denied any knowledge of a crash, but the broken vehicle parts left behind at the crash scene and the damage to his truck matched.
Two children were also found to be in his vehicle. They were released to their mother
A field sobriety rest revealed a blood alcohol level of .11 percent. Tuttle was arrested on charges of operating a vehicle while intoxicated with endangerment and leaving the scene of an accident causing moderate to severe bodily injury,
Tuttle was later released.