Columbus man found guilty in girlfriend's murder
A Columbus man was found guilty of murder Friday after only an hour of jury deliberations.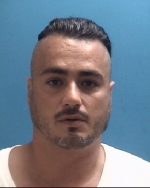 According to the Bartholomew County Sheriff's Department and Prosecutor's Office, Patrick Doyle was found guilty Friday in Bartholomew County Circuit Court for the 2021 murder of 37-year-old Heather Ann Steuver. Due to extensive media coverage of the case, the jury consisted of jurors from Shelby County.
Doyle was found to have killed Steuver at a home in the 5500 block of East County Road 800N on Aug. 22nd, 2021.
Steuver's parents reported her missing four days later. Authorities say that Doyle admitted to killing Steuver while being interviewed by a sheriff's department detective while he was being held on child pornography charges.
Steuver's body was later found in a shallow grave at Doyle's place of employment, Nugent Sand and Gravel Co. According to the Bartholomew County Coroner's Office, Steuver's death was a homicide by blunt force trauma.