Convicted felon found with gun on Interstate 65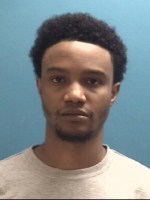 Bartholomew County deputies arrested an Indianapolis man early Monday morning after he was found to be carrying a gun, while a convicted felon.
According to reports from the sheriff's department, deputies noticed a vehicle with a broken headlight on Interstate 65 at about just after 3 yesterday morning and pulled the driver over. When officers spoke to the driver, they could smell marijuana in the vehicle and noticed a green leafy substance inside the vehicle. The driver, 24-year-old Kyle Wright, allegedly told deputies that he had a handgun between the driver's seat and center console.
Deputies searched the vehicle and recovered a small amount of marijuana along with a .40 caliber handgun. Police determined that Wright was still on probation for a prior felony conviction last year in Hendricks County. He allegedly told deputies that he knew he wasn't supposed to have the gun, but was carrying it because of a recent road rage incident.
He was arrested on a felony charge of being a felon in possession of a firearm and a misdemeanor charge for possessing the marijuana.
Sheriff Chris Lane said it is becoming more common for deputies to locate firearms being carried by convicted felons or people have narcotics in their possession.