Domestic dispute call turns to arrest in Jennings County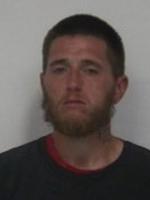 A call about a domestic disturbance last week in Country Squire Lakes led to the arrest of a man on a variety of charges including trying to sneak drugs into the jail.
According to the Jennings County Sheriff's Department, deputies were called to the area of Derbyshire Court on Thursday and talked to a victim of a reported battery. Deputies searched the area and found a suspect, 33-year-old Kevin Swindall. Swindall was already out of jail on a pre-trial release on unrelated charges and was taken into custody.
Deputies asked Swindall if he had any contraband on him prior to being taken to the jail and he said he did not. But a search at the jail revealed he was carrying hidden methamphetamine and marijuana inside of him.
He is facing charges including:
Domestic Battery
Battery
Strangulation
Intimidation
Possession of Methamphetamine
Possession of Paraphernalia
Possession of Methamphetamine within a Penal Facility