Driver facing charges after chase in stolen truck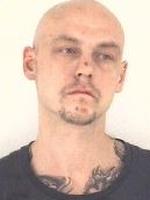 A Hope man was arrested Monday evening after fleeing from police in a stolen pickup truck.
According to the Columbus Police Department, officers noticed a truck speeding near Marr and Rockyford Roads at about 6:18 p.m. Monday evening. The truck had been reported stolen and officers began a pursuit. The driver left the city limits, drove through a field and struck a tire deflation device near 25th Street and Talley Road. The driver pulled into a parking lot on 25th Street where he was taken into custody.
The driver, 38-year-old Brian R. Sosbe is facing charges including resisting law enforcement with a vehicle possession of a stolen vehicle and possession of stolen property with a previous conviction, reckless driving, criminal mischief and operating a vehicle as a habitual traffic violator as well as for possessing legend drug injection devices, a narcotic drug, a legend drug, marijuana and methamphetamine.
Photo courtesy of Columbus Police Department