East graduate sworn in as newest Columbus officer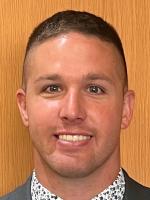 A Columbus East High School graduate has been sworn in as the newest city police officer.
According to the Columbus Police Department, Cameron Curry was sworn in at Tuesday morning's Board of Public Works and Safety meeting by Columbus Mayor Jim Lienhoop
Curry is a former Columbus Police Department Law Enforcement Cadet. He graduated from Kentucky Wesleyan College with a bachelor of science degree in criminal justice. Curry worked for the Michigan State Police for 3 and a half years as a state trooper.
Curry will now start the Columbus Police Department's field training program.