Ferdon chosen to be next mayor of Columbus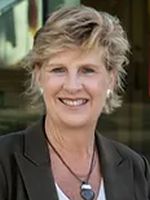 Republican Mary Ferdon will be the next mayor of Columbus, after Tuesday's municipal elections.
Ferdon won the race over independent Sean Burton, 73 to 27 percent in unofficial vote totals.
Ferdon has served under current Mayor Jim Lienhoop for eight years as director of administration and community development for the city.
She talked about her win.
Ferdon thanked the voters who supported her in her first run for elected office:
Ferdon reflected on the end of a long campaign:
Incumbent Clerk-Treasurer Republican Luann Welmer has defeated Democrat Quisha Jackson for the city's new clerk position 61 to 39 percent.