Ferdon wins mayoral nomination, Wood earns fall spot on ballot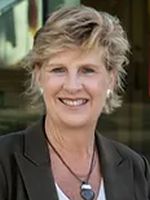 Republican voters have chosen Mary Ferdon as their candidate to be the next mayor of Columbus.
Ferdon, the current executive director of administration and community development for the city, has defeated former State Rep. Milo Smith with 63 percent of the vote to Smith's 37 percent in Tuesday's primary election.
Ferdon said she appreciated the volunteers in her campaign and the voters for their confidence.
Smith said he didn't believe there was any single issue that made a difference in the outcome.
Smith said he will continue to look for ways to serve the Columbus community.
No Democrat has filed to run for mayor in the November election but the party has until this summer to find a candidate.
In the only other contested race of the night in Columbus, Democrats have chosen incumbent City Council member Jerone Wood to run for the District 3 seat on the council this fall.
Wood has won the nomination with almost 40 percent of the vote, over Michael Kinder with 30 percent and Tony Hayden with 29 percent.
Wood will face Republican Sue Norman-Chapple, who ran unopposed for the Republican nomination.
In other area races, incumbent Seymour Mayor Matt Nicholson has defeated challenger Dan Robison in the Republican primary.