Former local legislator pleads guilty to federal charges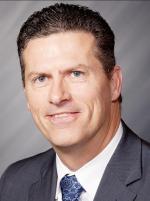 A former state legislator who represented part of Bartholomew County has pled guilty to felony charges in federal court.
According to documents from the U.S. Attorney's Office for the Southern District of Indiana obtained by the Times of Northwest Indiana newspaper, Sean Eberhart of Shelbyville entered the plea late yesterday afternoon and faces up to five years in prison,  a $250,000 fine, and three years of supervised release following any term of imprisonment.
Eberhart has agreed to pay $60,000 in restitution, the equivalent of his salary as a legislator according to the documents.
According to the documents, the FBI collected evidence against Eberhart that he engaged in a conspiracy to commit honest services fraud while in office. That evidence included but was not limited to:
 text message communications to and from Eberhart
call records involving Eberhart
digital images of documents sent to and/or received from Eberhart and others
covert recordings of conversations with Eberhart and audio and video recordings and other records of statements and actions in the Indiana legislature.
His district included northeastern Bartholomew County including the Hope area. He left office last year after not seeking re-election. Previously he served on the Shelby County Council.
TTWN Media Networks contributed to this report