Hope man accused of carrying firearm illegally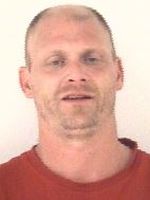 A Hope man is facing charges for illegally carrying a handgun after he was originally accused of shoplifting.
According to the Columbus Police Department, officers were called to the east side Walmart store at about 3 p.m. Friday about a shoplifting suspect. Store security pointed out 40-year-old Randall Burton of Hope, who was seen using a knife to cut open packaging and then putting items in his pants pockets.
Police confronted Burton, recovering the knife as well as a set of headphones. But they also found he had a loaded handgun in his possession. Police discovered that Burton was not allowed to possess a firearm due to previous felony convictions.
He was arrested on preliminary charges of possession of a firearm by a serious violent felon, resisting law enforcement and theft.