Inmate arrested again after walking away from work crew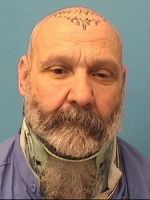 An inmate who allegedly walked away from an Edinburgh work crew has been arrested again.
According to the Indiana Department of Correction, Marion Jaynes is serving a 20 year sentence for burglary at the Edinburgh Correctional Facility. Authorities issued a request yesterday afternoon for the public's help in finding him after he escaped. They said he was driving a blue Dodge Dakota in Indianapolis yesterday morning.
Jaynes was taken into custody by the Indianapolis Metropolitan Police Department at a home shortly before 3:30 p.m. yesterday afternoon.
The Edinburgh Correctional Facility is a minimum security facility located at Camp Atterbury. The facility has work crews multiple areas.
Other agencies assisting in the search include the Johnson and Morgan county sheriff's departments, Franklin and Mooresville police and the Indiana State Police.
The Johnson County prosecutor will decide on any additional charges.
Photos courtesy of Indiana Department of Correction.