IUPUC announces Excellence in Diversity award winners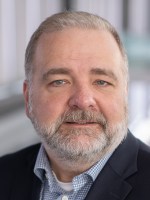 IUPUC recognized the winners of its Excellence in Diversity Awards at the NAACP Martin Luther King Jr. Remembrance and Awards Gala Saturday. Those went to associate professor of mathematics Jon Padfield and the United Way of Bartholomew County.
Padfield was recognized for a campus initiative which provided customized Six Sigma training to black women in leadership positions, so the skills could be used to address issues that impact the Black community and workforce. The training was part of the IUPUC Center for Business and Economic Development cohort in partnership with The Six Sigma Racial Equity Institute.
The United Way was recognized for community initiative for its involvement in the Columbus Diversity and Inclusion Task Force. The task force works to identify and to address issues of discrimination, prejudice, and bias in the community. United Way of Bartholomew County supports local organizations including the Columbus Area Diversity Council, the Columbus African American Heritage Museum, and the Columbus Pride Festival.