Jennings County traffic stop recovers drugs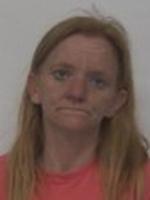 A traffic stop in Country Squire Lakes led to the arrest of a woman on drug-related charges over the weekend.
According to the Jennings County Sheriff's Department, on Sunday, deputies noticed a vehicle leaving a location where there had been multiple complaints about drug activity. And the vehicle had an inactive license plate.
During a traffic stop, the driver, 37-year-old Mary L. Wood, could not provide proof of insurance. Because Wood had previous drug-related charges, a police dog was brought to the scene and alerted to the smell of drugs inside the vehicle.
A search uncovered methamphetamine and drug paraphernalia. Wood was arrested on preliminary charges for possessing the drugs and paraphernalia and for maintaining a common nuisance. She was already out on pretrial release for unrelated charges, deputies say.