Jennings fugitive caught after ankle bracelet removed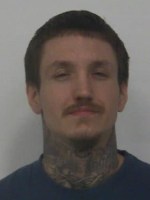 A fugitive was captured by Jennings County authorities, after he cut off his monitoring ankle bracelet.
According to the Jennings County Sheriff's Department, Indiana State Parole Services alerted Jennings County authorities that Ace Holestein had cut off his ankle bracelet at about 11:30 Saturday night. Holestein was on supervised release for a felony charge of child solicitation.
A description of the fugitive's vehicle was released and a deputy located the vehicle in Country Squire Lakes. Deputies and North Vernon police went to the home and when they contacted Holestein at the front door, he attempted to run out the back. He was quickly taken into custody by a North Vernon police officer.
Holestein was taken to the Jennings County Jail without further incident.