Man accused of firing shots near children playing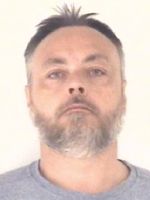 A Columbus man is being accused of recklessly firing a firearm near a neighbor's home.
According to the Bartholomew County Sheriff's Department, deputies were called to the 7100 block of West State Road 46 about shots being fired at about 3:40 p.m. on Saturday. Witnesses said a neigbor was target shooting and the bullets were coming dangerously close to a home where children were playing in the front yard.
39-year-old Jason Burns of Columbus admitted to deputies that he had been shooting but as deputies took him into custody, he allegedly grabbed a firearm.
He is facing five preliminary counts of criminal recklessness with a firearm and a charge of resisting law enforcement with a deadly weapon.