Man accused of throwing scalding water on victim in domestic dispute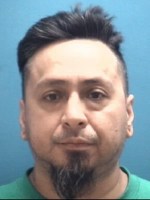 A Columbus man is under arrest, accused of seriously burning a woman with a pot of boiling water during an argument.
According to reports from the Bartholomew County Sheriff's Department, deputies were called to the Driftside Mobile Home Park at about 4:36 p.m. Monday afternoon about a domestic dispute. The victim said that she and 41-year-old William Guzman had been having a discussion in the kitchen when he became upset. He grabbed a pot of boiling water and swung the pot at her, splattering her with the scalding water before leaving the home.
Deputies say that she showed significant burns on her forearm and abdomen.
Guzman returned to the residence and after being questioned by deputies was arrested on a misdemeanor charge of domestic battery.
Sheriff Chris Lane says that addressing domestic battery is a top concern for the department. He said that if you know someone who is being victimized in a abusive household, you should contact law enforcement.