Man arrested after early morning chase in two counties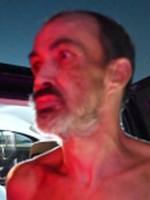 A man was arrested early this morning after a chase through Johnson and Bartholomew counties.
According to the Edinburgh Police Department, at about 12:30 a.m. early Friday morning, Deputy Chief Hector Mercado noticed a pickup that had been reported stolen earlier that shift. He attempted to pull the vehicle over near the Bartholomew and Johnson County line, but the driver took off, fleeing north on U.S. 31 into Franklin, before driving into a field near Young's Creek.
Police say that is where the driver struck a Johnson County deputy's vehicle, before driving back down U.S. 31 to Edinburgh, where he again drove across a field. Eventually the driver, identified as 56-year-old Tony Allen, abandoned the vehicle and ran away through the field.
Using drones, deputies located the stolen vehicle and several police dogs began tracking the driver. About an hour into the search, Bartholomew County Deputy Dylan Prather and his police dog Frizko located Allen in a field near County Road 950N and U.S. 31. During the arrest, he was bitten by the dog. He was taken to Johnson County Memorial Hospital for treatment before being arrested.
Allen is facing charges including:
Auto Theft

Resisting Law Enforcement with vehicle and by fleeing

Criminal Reckless with a vehicle

Leaving the scene of a property damage accident.

Operating a vehicle while never receiving a license

Criminal Mischief and 

and

Reckless Driving
The deputy whose vehicle was struck was not injured.
Edinburgh Police were assisted by agencies including the Johnson and Bartholomew County sheriff's departments, Indiana State Police, Franklin Police, Columbus Regional Hospital and Nineveh medics along with dispatchers from Bartholomew and Johnson counties. 
Photos courtesy of Edinburgh Police Department.