Man arrested for bringing gun into North Vernon school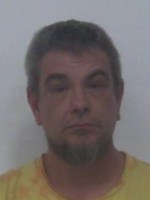 A North Vernon man is under arrest, accused of carrying a gun into a school to test gun policies.
According to reports from the North Vernon police department, officers were called to North Vernon Elementary School at about 11:20 a.m. Thursday morning after a man brought the gun to the main office and showed it to staff. Witnesses said he asked about the policies for bringing guns into schools.
The man, identified as 47-year-old Eric E. Smith, was escorted outside and authorities say that he never got farther into the building than the office area, and was never near any students.
Police interviewed Smith and his wife. They said that about two weeks ago, Smith and his wife discussed his plans to bring a gun into the school to address the policies with staff members. She told him at the time that she thought it was a bad idea. Police recovered the firearm from the couple's home.
Smith was arrested on preliminary felony charges of possession of a firearm on school property and intimidation. He is also banned from all Jennings County schools.
Police say that although Indiana lawmakers enacted a Constitutional Carry law which allows residents to carry a handgun without a permit, there are still areas where weapons are restricted. That includes school properties and police say that those laws will be enforced, warning of strict consequences for violations.