Martoccia to serve as chief deputy for Bartholomew sheriff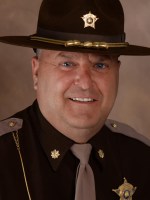 Major John Martoccia is the new chief deputy for Bartholomew County.
Sheriff Chris Lane made the announcement today that Martoccia would take on the role as second in command of the department. Lane said "He has devoted his life to serving the citizens of Bartholomew County and I am proud for him to continue his service as my Chief Deputy."
Martoccia has been with the sheriff's department for 29 years. He is a graduate of Columbus East High School and Vincennes University. He was part of the Leadership Bartholomew County class in 2011. He graduated from the FBI National Academy in 2012.
Martoccia began working in law enforcement in 1994 in the Bartholomew County Sheriff's Department corrections division. He was promoted to merit deputy and graduated from the Indiana Law Enforcement Academy in 1995.
Martoccia has served as a patrol deputy, detective, narcotics detective, patrol supervisor and most recently as jail commander.
Martoccia lives in Bartholomew County with his wife, Aimee, and their three children.