Myers steps away from race for Columbus mayor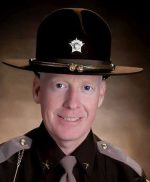 Former Bartholomew County Sheriff Matt Myers says he is dropping out of the race for mayor of Columbus.
Myers, a Republican, ended his second term as sheriff at the start of the year and filed to run for mayor on the first day of filing the next week. Myers is a former Columbus city police officer and prior to that worked for the sheriff's department as a jail officer. He said he has spent more than 30 years in public service roles.
In an announcement yesterday, Myers said "with much thought and prayer I have concluded that my heart's desire is to bring my public service career to an end and to seek new opportunities within the private sector."
He said that he is grateful for the support he received in his campaigns for sheriff and for mayor. He said it was the honor of a lifetime to serve two terms as sheriff.
Myers said that he will continue to assist new Sheriff Chris Lane as his chief deputy during the transition period, until the end of February.