New advocated hired for black, bi-racial youth initiatives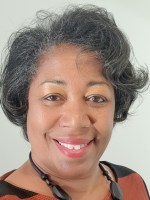 A local coalition of education advocates are announcing the hiring of a manager of black and bi-racial youth initiatives for the community.
Felicia Garr from Louisville, Kentucky is filling the new role for the Community Education Coalition in Columbus. Funding for the position comes from a grant provided through Cummins through its Cummins Advocating for Racial Equity or CARE program. CARE was launched in 2020 to work to address systemic discrimination against Blacks and to drive racial equity in the U.S.
Garr comes to Columbus from Goodwill Industries of Kentucky, where she was the internship and job development specialist for the young adult opportunity campus and KentuckianaWorks. Garr has led initiatives at Morehead State University to increase black student enrollment by 15 percent. She holds a bachelors degree in Mass Communication with a focus in Broadcasting from Eastern Kentucky University.
In her new role, Garr will be a champion serving and supporting black and biracial youth and their families including establishing partnerships with education, community and employers to promote diversity, equity and inclusion in service to student success here.