New area legislator sees approval for first bill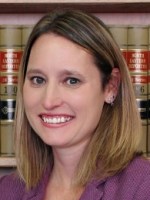 A bill from Bartholomew County's newest legislator is heading to the governor's desk for signature.
State Rep. Jennifer Meltzer, a Shelbyville Republican, created legislation to begin screening for an animal tranquilizer in overdose deaths. Meltzer said xylazine, also known as the street drug "tranq," is used as a veterinary sedative for livestock. But it has also been linked to a growing number of overdose deaths.
She said the substance is being mixed with drugs like fentanyl and other opiates. But xylazine is not an opioid, so lifesaving medications such as Narcan are less effective. The Drug Enforcement Agency reports that xylazine-positive overdose deaths in the Midwest increased by more than 500% from 2020 to 2021.
Undder her legislation coroners would test for any trace of xylazine in drug overdose deaths. She said this extra step would provide the state with data that could be used to form an action plan.
This is Meltzer's first bill. The freshman legislator's district includes northeastern Bartholomew County.
Photo: Indiana State Capitol. Creative Commons photo license.