Niveveh man arrested with drugs, gun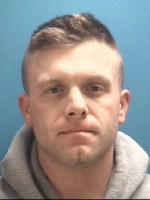 Bartholomew County deputies arrested a man allegedly carrying narcotics and a firearm last week, the second such recent arrest.
According to reports from the Bartholomew County Sheriff's Department, a deputy pulled over a vehicle for speeding near North U.S. 31 and West County Road 800N at about 3:09 p.m. Thursday afternoon. The driver, 37-year-old Brian Harmon of Nineveh was found to be a habitual traffic violator.
Deputies searched the vehicle and found methamphetamine, marijuana, narcotics paraphernalia and a handgun.
Harmon was arrested on preliminary charges of being a Habitual Traffic Violator, Possession of Methamphetamine – While in Possession of a Firearm, as well as for possessing the marijuana and drug paraphernalia.
Sheriff Chris Lane said this was the second time in two weeks a suspect arrested with drugs also had a gun. He called it a deadly combination with devastating effects on the community. And Lane said it shows the danger "deputies can be put in while trying to take these weapons off the street."
Photo courtesy of Bartholomew County Sheriff's Department.