Plate-reading camera system leads to Georgia man's arrest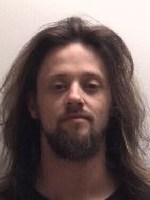 A Bartholomew County license plate reading camera system led to the arrest of a Georgia man in a stolen car Thursday morning.
According to the Columbus Police Department, officers received an alert from the Flock camera system which identified a reportedly stolen vehicle entering the county on West State Road 46 at about 11:45 a.m. Thursday morning. Police found the vehicle in the parking lot of a business on Carr Hill Road. But as officers approached the vehicle, the driver backed up suddenly striking another vehicle in the parking lot.
He then drove to a nearby hotel parking lot, where he was taken into custody. A search of the vehicle uncovered narcotics and drug paraphernalia inside.
Officers arrested the driver, 25-year-old William D. Honea, of Douglasville, Georgia on preliminary charges of theft, resisting law enforcement in a vehicle, leaving the scene of a property damage crash as well as for possessing methamphetamine, marijuana and drug paraphernalia.
The Flock cameras are positioned to watch traffic coming into the county. They have the ability to read license plates and quickly process those against a database to alert police with various pieces of information, such as recognizing the plate of a stolen vehicle, or a vehicle suspected in a child abduction. That information is processed within moments and then forwarded to on-duty police via a computer program in their vehicle.