Pursuit leads to National Road crash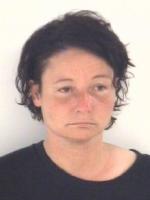 A Columbus woman is facing charges after a crash in a stolen vehicle on National Road yesterday morning sheared off utility poles.
According to the Bartholomew County Sheriff's Department, deputies were called to the 8900 block of North County Road 1050E at about 8:05 a.m. in the morning after a car had been reported stolen. A deputy enroute to the scene saw a vehicle matching the description heading southbound on State Road 9 near East County Road 300N. The driver also matched the description of the female suspect.
The deputy followed the vehicle into Columbus on 25th Street and was joined by Columbus Police. Officers tried to stop the vehicle near Flintwood Drive but she sped away eventually heading southbound on North National Road. Near the intersection with Central Avenue, the driver began driving southbound in the northbound lanes and lost control, driving across the sidewalk, striking two utility poles before coming to a stop.
The driver, 42-year-old Devony Thompson suffered sustained non-life threatening injuries in the crash. She was first taken to Columbus Regional Hospital, then to an Indianapolis-area hospital due to the extent of those injuries. Deputies say she was not wearing a seatbelt during the incident.
Preliminary charges have been forwarded to the prosecutor including auto theft, resisting law enforcement with a vehicle, reckless driving and driving while suspended with a prior conviction.