Schneck exec makes magazine top list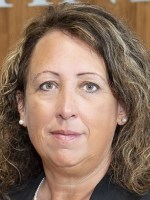 Schneck Medical Center's chief financial officer is being recognized by a national hospital publication.
Becker's Hospital Review named Deborah Mann one of ten "CFOs to Know" in its annual list of top performers. Mann serves as chief financial officer and as vice president of finance for the Seymour hospital.
According to an annoucement from the hospital, the list is published to recognize CFOs who have a legacy of strong leadership and are guiding their organizations through the changing landscape of healthcare delivery. According to the publication, "Rural hospitals provide access to health services for communities that may otherwise face barriers to quality care."
Mann started at Schneck in 1994 as a staff accountant and became vice president of finance in 2014. She is a certified public accountant, holds a bachelors of science in business from Indiana University and a masters of business administration from Indiana Wesleyan University.