Scipio man facing charges after stolen gun recovered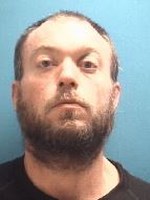 A Scipio man is under arrest after Columbus police recovered a stolen rifle during a traffic stop Wednesday evening.
According to police reports, officers stopped the vehicle at about 6 p.m. Wednesday near Second and California streets. That's when an officer noticed the rifle in the front passenger seat.
Officers secured the weapon and discovered that it had been reported stolen from Jennings County. Police also discovered that the driver, 37-year-old Jesse D. Taylor of Scipio was prohibited from having firearms because of previous convictions for armed robbery and domestic battery.
Taylor was arrested on preliminary charges of:
Possession of a Firearm by a Convicted Serious Violent Felon
Possession of a Firearm by a Convicted Domestic Batterer
Theft of a Firearm
Possession of Marijuana