Seymour police looking for owner of invasive drone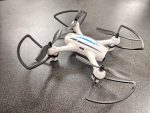 Seymour police are looking for the owner of a camera-equipped drone that banged into a girl's window in the middle of the night.
Police say that the drone was recovered by the property owner after it hit the window at about 11 at night recently near Redding School. According to police, the uninvited video recording of people in some situations can be considered voyeurism.
Police are asking if you have any information on who could have been using the drone, you should contact the Seymour police anonymous tip line at 812-523-7629.
They also would love for the owner of the drone to stop by the police department to pick up the still-functional device.