Wanted Jennings man arrested after SWAT standoff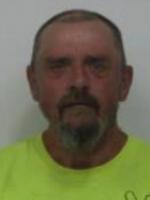 A wanted man was arrested Thursday in Jennings County after a pursuit by the county SWAT team and the assistance of the Seymour SWAT team.
According to the Jennings County Sheriff's Department, deputies began gathering information about a previously violent felon who was in the Hayden area, 58-year-old Brian L. Weber. He was wanted on warrants from Decatur County for burglary with a deadly weapon causing serious bodily harm, for failing to appear in court on a charge of being a habitual traffic violator and an Indiana parole warrant for dealing cocaine.
Authorities were told that Weber had said he would not go back to prison and planned to go out "in a blaze of glory."
A search warrant was issued and the SWAT teams along with other agencies found Weber outside a home where he had been living. But Weber ran from the officers going through several yards, police say. He was finally cornered in a barn about a half mile away.
He was taken into custody by Jennings County police dog Zobi and after being treated for minor injuries, he was taken to jail. In addition to the warrants, he is facing new charges of intimidation of a law enforcement officer and resisting arrest.
Also assisting at the scene were Indiana State Police, Indiana Department of Natural Resources conservation officers, and Jennings County medics.
Photo courtesy of Jennings County Sheriff's Department.