Wanted man arrested after running from Jennings County deputies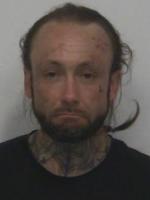 Jennings County deputies arrested a wanted man last week after he tried to flee, first on a motorcycle and then on foot.
According to the Jennings County Sheriff's Department, investigator received word Thursday that 43-year-old Clayton J. Littrell was traveling north on State Road 7 near Grayford Road. Littrell was wanted on outstanding warrants from Bartholomew and Jefferson counties.
Police found Littrell stopped in a church parking lot on State Road 7 and tried to take him into custody, but when he saw investigators approaching he tried to start his motorcycle, but couldn't get it to start. He then ran away and was captured a short distance away after a struggle with deputies.
In addition to the outstanding warrants, Littrell is facing new charges of resisting law enforcement and for Possession of a Syringe, Methamphetamine and drug paraphernalia.